NOTE ADDED FEB 23RD - If anyone would like to read "A Sweetness in the Belly" for the March 17th get together, that is the one that we will be talkking about. Read on...
Last night the
Kingston Knitting Circle
met at Chapters as we do each month .(Although apparently we will be looking for a new venue in the near future. Any ideas??? I'll keep you posted.)
And it became apparent that the people who were there last night were not only avid knitters, some driving 1/2 hour from out of town to join us, but that we were also avid readers. My favourite books are Canadian literature by women, (although I am NOT a fan of Margaret Atwood) and so was delighted to stumble recently across
Water for Elephants by Sara Gruen
. A couple of the others who were there last night had also read it and one of the knitters put it so well: "She paints beautiful pictures in her story." I say that the quote on the front of my copy by a writer for the Chicago Tribune should be considered a warning to be taken seriously: "So compelling, so detailed and vivid that I couldn't bear to be torn away from it for a single minute." The dust bunnies in my house are running wild since I began reading it. (Actually they're usually able to run wild around my place, no matter what I'm reading but it's even worse now.)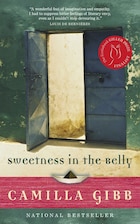 One of the other ladies suggested that it would be a fun to choose a book and try and read it before the next meeting, ad hocly making our meeting a knitting & reading get-together (next one is on St Patrick's day, by the way, at Chapters from 7-9). The book that she loved and was reading is called
"Sweetness in the Belly"
. NPR's review describes it like this: "Sweetness in the Belly, the new novel by Camilla Gibb, is the story of what happens to a young Irish girl abandoned in Morocco when her parents are murdered." It does sound wonderfully intriguing.
Then as we were nattering away, a very nice young man came into the Com
munity Room where we were sitting and put down 2 copies of
"Ten Thousand Lovers" by Edeet Ravel
on the table, saying that he had heard us talking, and that due to his insomnia he gets to read
4-5 novels each week
( I wish...) and that this one was one of the best he had read in a long time. The author was born in an Israeli kibbutz and was now living in Guelph ON. I love these serendipitous referrals, and as my degree in Jewish History offers me little advantage at this point in my carreer but an interest in certain times and places in history, I was sold. A few minutes later he returned with 4 hard cover copies that he had found on the sale table that were only $7.99 - It was meant to be!
The other thing that he mentioned is that he had been in touch with the author via her web site and was able to meet her in Westport not too long ago. Alana (our wonderful new worker at the store) and I had been talking about just this phenomenon earlier in the day in reference to her own exchange with
Mags Kandis of Mission Falls
: how the internet allows us to feel closer to people that we find interesting and would like to exchange ideas with much more easily than if we had to make an appointment to visit them. And the "celebrity" can choose to reply or not, and considering that a reply can take but a few moments, it's lovely opportunity for them to build exchanges with people whom they would never get a chance to be in contact with otherwise. I really am becoming such a fan of the wonderfully human aspects of the internet. After all it allows me to chat with you both here and in the newsletter, it puts me in touch with family and friends from away, it reconnects me with people that I haven't seen since High School yet with whom I'm interested in touching base, it allows me to find every knitting store in the universe (and anything else for that matter). We do live in marvelous times!