So I've been really lazy with the blog this summer, having fun on a trip to the Maritimes and getting things organized for the fall.
When I was preparing the August Newsletter I was so impressed by the designs of Laura Chau, a wonderful knitwear designer from Toronto, and we're really please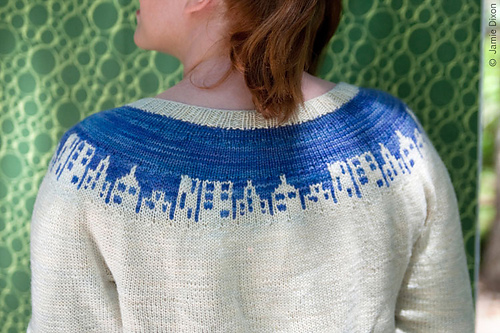 d to feature some of her patterns in the store. They've been going well. Alana discovered this new pattern from Laura that's now available through Ravelry called
Cityscapes.
Deb White's Silk Bathrobe from the book: No Sheep For You
Maria Leigh's Picnic Cardigan
Robin Hunter's
Pinwheel Cardigan
Sandridge.
Link to her blog and you'll not only get the inspiration that contributed to the creation of this sweater but also see the cleverly reinvented version of it as a lady's coat with a flattering A line silhouette (also available on
Ravelry
).